On September 17 -18 we hosted our valued customers and partners in Chicago for SievoFriends Americas.

See the video highlights below!

[embed]https://youtu.be/DX-2HdTavWE[/embed]

The participants to our annual customer event arrived in the morning ready to begin a workday at the Museum of Contemporary Art in Chicago (MCA).
This year our line-up of guest speakers included:
Customer success cases from Melissa Trevino, Senior Director at Levi's and Brian Robinson, Global Chief Procurement Officer at Elevate Textiles.
Partner keynotes from Roy Anderson, Chief Procurement Officer at Tradeshift and Glenn Danielsen, Director of Strategic Alliances at Scanmarket.
Many presentations from Sievo's senior leadership and product experts, including Group CEO Matti Sillanpää and Vice-President for Customers, Sammeli Sammalkorpi.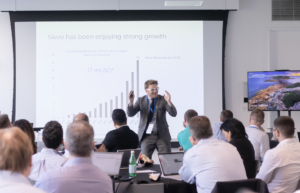 After lunch was served and a nice tour of the museum was done, the interventions of our colleagues and experts from Sievo started. The objective was to show the projects in which the company is working on and share with our friends some news, like our future landing page and visuals.
The Insights day was truly full of interesting exhibits. We listened to the latest news in Spend Analytics, enjoyed customer success stories and heard all about the next generation in Analytics & Digital Procurement.
On the other hand, Action day left us with much insightful feedback. Our active customers had many ideas that gave us lights to take in mind in the future for sure. Some of them also gave us really good feedback about how our tool has made their lives a little bit easier.
Definitely, this was a successful and unforgettable event. We cannot wait to meet again with our SievoFriends next year!