Spend Analysis Demystified is a series of articles where Sievo's source-to-screen reveals the hidden world of advanced spend analysis. Read Part 2 and Part 3.
We all know that nowadays, data is everything. In fact, most efforts are focused on harvesting the data, but without much understanding which data has the most significance. No matter how important it is, unless you can extract the right data for your analysis purposes, you will get garbage in and garbage out. Pulling out large amounts of data out of myriad of sources without a standard interface can be quite a tedious task.
In a big company in a real business world, data extraction is a challenging task, which requires tremendous human and capital investment. On top of that, most systems weren't built for the intensive load an extract will put on them, especially internal databases that need to continue serving users during the data pull. Because of the unexpected amount of stress put on the servers, considerably big performance problems can occur during the process. The amount of data to extract and the amount of maintenance required result to pulling out data records out of systems longer than the time it is expected to.
The good news is, there's always a better way to do things. The Sievo Data Extractor is designed to connect and extract the most complicated and extensive procurement data from all kinds of data sources and deliver it for further analytical processing.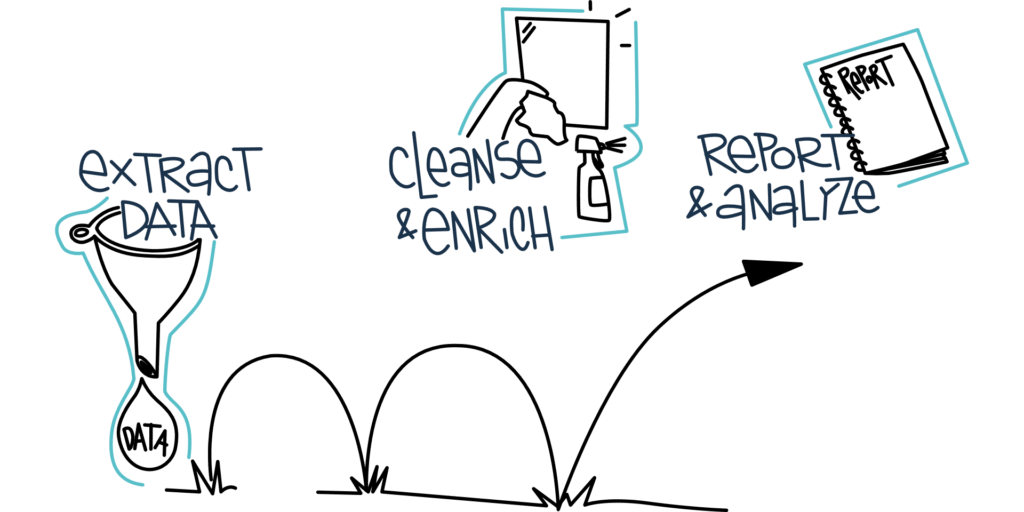 Here are 5 things on how the Sievo Data Extractor works its magic:
Even if extraction can be done in-house, using Data Extractor incredibly shortens the lead time as it takes away the erroneous manual work. It has a pre-configured template for extraction to take the correct data with possibility of additional data fields. The challenge of spend data extraction lies in the fact that you need to collect data from multiple modules of an ERP, in a way that you get a coherent view on spend. Building this logic is trickier than it seems at the outset, but luckily Data Extractor has prebuilt capabilities of doing this for most ERPs. Because the tool cuts away a significant amount of time and effort, there is no need to involve too many people in the whole process, like for example heavily involving internal IT which generally means longer lead times.
The tool represents an easy way to extract data from multiple systems with complete data security. Many companies like to have a full control over sensitive data, but this tool guarantees a secured way of extracting data, delivering it for further processing with a possibility for customers to still keep control.
Installed to a client's computer within minutes, and with its compatibility to practically any ERP, procurement and finance systems, it seamlessly captures all the data and pushes it to the Sievo cloud. Correct extraction paves the way for conducting quick data cleansing and analysis.
The tool allows us to monitor all processes, in cases of exceptions. We have all the tools to proactively fix the issues, and our unrelenting experience allows us to know how to react to errors such as connections not working or only partial data sets extracted. This results to more reliable processes and up-to-date reports with less support needed from the customer.
Once the data gets extracted, it is now ready to get enriched and cleansed . After the transformation logic, what you're left with is a clean, consolidated and filtered format which then makes the rest of the process easier and faster.
In a nutshell, with its trusted and ready-made plug and play templates, the Sievo Data Extractor Tool does the heavy lifting. With massive amounts of data on hand, the best chance of success is to work with the company who does not only have the technical expertise, but also understands the procurement data and has perfected this process . And Sievo systems have the ability to deal with all kinds of idiosyncrasies and challenges that make the extraordinarily dirty data, outdated and messy sources of information into an easy-to-comprehend format ready for analysis.
You may of course the deliver the data to us, but why opt for that when we'd be happy to take them from you. With the powerful tool in our hands, all this can be done without compromising security.
Proceed to Part 2: Collaborative Classification